Check out the Next Generation TELESYNERGY® video:
What is TELESYNERGY®?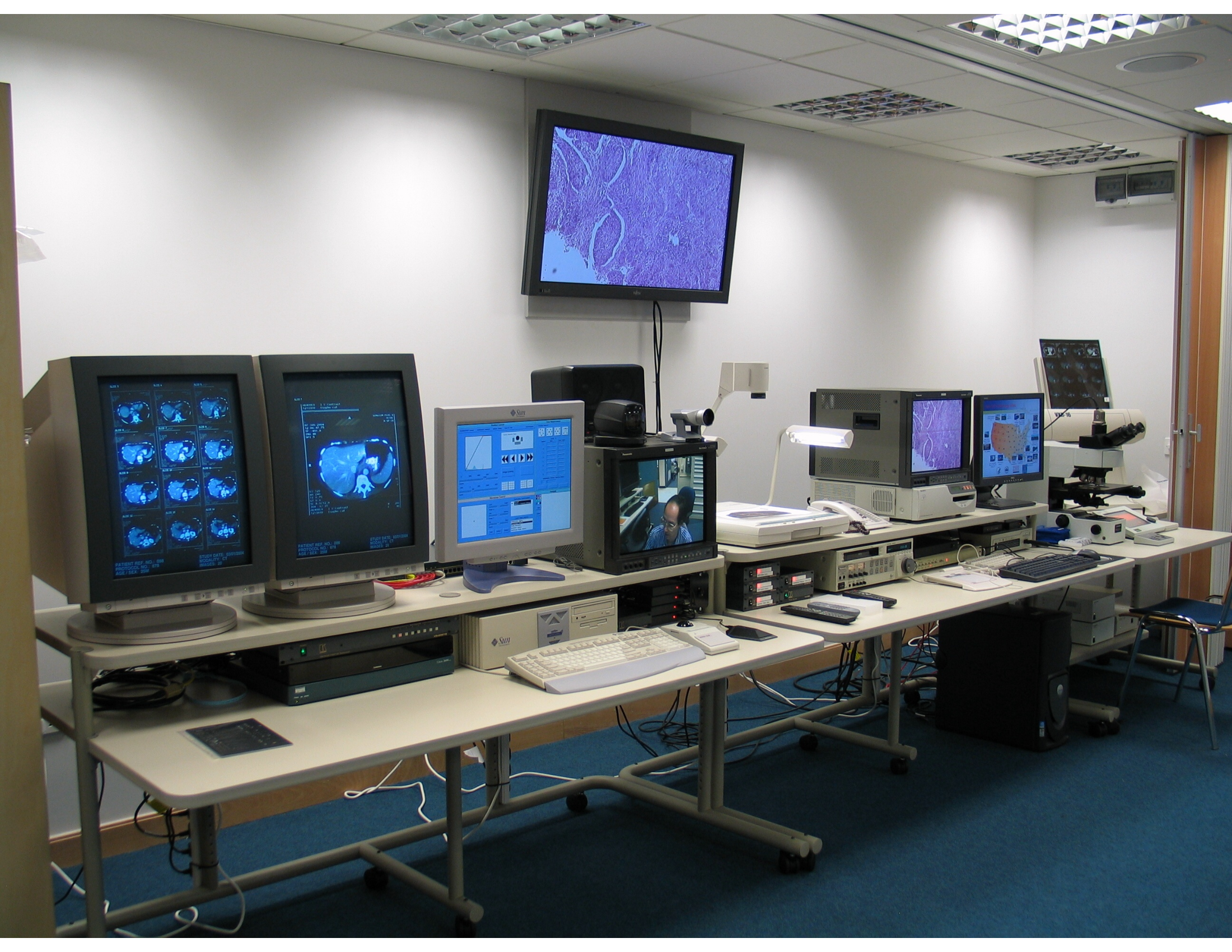 TELESYNERGY® is the use of equipment and communication devices for long-distance collaboration between medical institutions
"Same Room Paradigm"(TM) is a unique TELESYNERGY® technology solution that supports mentoring between trainees and mentors from different institutions, whether across continents or across cities
TELESYNERGY® can be used for any activity that relates to the education, prevention, detection, diagnosis, treatment, and follow-up of any patient's condition in any medical field
Allows synchronized viewing of high resolution images amongst collaborators.
Developed by National Institutes of Health scientists and engineers to facilitate communications between cancer researchers around the world
Allows synchronized viewing of high-resolution images amongst collaborators.
Collaborators can view and manipulate images from scopes, X-rays, MRI, PET, CT and other medical imaging devices
Allows physicians and scientists across the state or across town to seek a second opinion with another expert. They can view the same material, while also seeing and speaking with each other, as if in the same room.
Benefits of TELESYNERGY®
Interoperability with a variety of environments
Can be integrated with existing systems and databases
Fully HIPAA compliant
Affordable and flexible
Minimum maintenance
Images viewable in multiple locations and on multiple devices

How TELESYNERGY® is different from Skype, WebEx and other video-conferencing services
Today, we have far more means of communicating with sound and image than we had ten or twenty years ago, using tools developed by providers such as Skype, Zoom, Meet and WebEx etc.
However, viewing high-resolution images, like X-rays and MRI's, is not possible with these services. Emphasis is on maintaining a quality audio connection at the expense of video.
Most services display images which are low to medium resolution, obviating detailed viewing of X-ray and other analytical images. These require high-resolution to identify cancer lesions, estimate tumor size, etc.
Because TELESYNERGY® high-resolution images are synchronized across platforms, they allow collaborators to see identical images, whether on microscopes, X-ray view boxes, tablets or computer monitors.
TELESYNERGY® Use Cases
Expert or Second-Opinion Consultation

Physicians in rural or geographically distant locations can consult in real-time with experts with knowledge of rare cancers or other less-well-known conditions
For example, review patient's blood and bone marrow slides and immunophenotyping results, confirmation of the diagnosis and a real- time discussion on history of the condition and possible treatment options for patient
International cooperative development such as the "Memorandum of Understanding" with Public & Private Health entities in Ireland, Northern Ireland, and Jordan.

Other Uses

Tumor Review Boards
Mentor-Mentee Training & Distance Learning
Grand Rounds, Seminars & Continuing Medical Educational Programs
Patient Screening for Clinical Trials & Clinical Trials Implementation
Single-User Diagnostic Imaging Workstation
Future Development of TELESYNERGY®
Move to cloud connection with modular, off-the-shelf components

The network was initially designed to be independent of the Internet for both security of patient data and for speed and reliability of the video-conference audio, video, and data.

As network technology continues to improve, we expect TELESYNERGY® to make use of secure IP connections in the future.

Development of a Software Development Kit and Software Reference Manual

To allow medical centers across the world to assemble their own TELESYNERGY® systems.

Encourage manufacturers to provide drivers to connect their instruments to TELESYNERGY®.

Continued Updating of TELESYNERGY®

Through agreement between NIH and OHSL allowing for Trademark use, Technology Transfer, and all future development and deployment of TELESYNERGY®

---

Contact us to find out how you can enhance your communications using TELESYNERGY®

---