The goal of the ICTBiomed project is to create an informatics platform leveraging the joint capacity of global research community in order to provide an environment for comprehensive cancer research based on tools that had emerged in scientific communities across the world. To this end the project partners ICT research institutions from USA, Europe and India started to integrate tools, know-how and local links with cancer research communities. This way ICTBiomed explores the potential of informatics technologies to have a significant and broader impact on a wider scope of cancer research activities.
The purpose of creating the ICTBiomed platform is:
to facilitate utilization of advanced informatics tools developed internationally within cancer research;

to enable cancer researchers from across the globe to come together and collaborate in order to capitalize on joint know-how and results;

to disseminate knowledge raise awareness on the value of informatics tools for the purpose of cancer research;
to train cancer researchers in using the informatics tools to enhance their research activities.
Open Health Systems Laboratory (OHSL) has established a consortium of institutions and practitioners around the world to participate in this project in 2012 known as ICTBIOMED – ICT for Biomedical Global Research Collaboration (ICTBIOMED). The leaders in supercomputing firms are as follows: Center For Advanced Development of Advanced Computing (C-DAC), Pune, India; Chalmers University Life Sciences Supercomputing Networking Center, Gothenburg Sweden; Poznań Supercomputing, Poznań, Poland.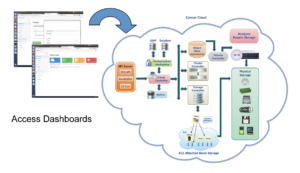 See ICTBioMed NCIP Science Gateway: A Hub for Collaborative Cancer Research
For more information, see our NCIP Hub.