Photo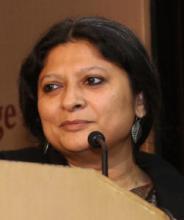 Did her Masters in Biotechnology and Ph.D. in the field of Virology and Immunology at the All India Institute of Medical Sciences, New Delhi. As Link Person in the Indo-UK Higher Education Link Programme between the Paterson Institute of Cancer Research, Manchester, UK and the All India Institute of Medical Sciences, New Delhi, she worked on antibody engineering and Phage Display Technology during 1995 to 2000. She was awarded the Young Scientist Award by the Indian Immunology Society in 2000, and the Young Scientist Fellowship by the Department of Science and Technology, Government of India in 2001. While at AIIMS, she worked on developing rapid diagnostic tests for typhoid, rabies immunotherapy and dendritic cell biology in relation to zinc deficiency. She joined the National Institute of Virology, Pune in 2005 and helped set up and headed the Avian Influenza Division at NIV in response to the first outbreak of Avian Influenza in India in 2006. The Avian Influenza laboratories were awarded the status of WHO Regional Reference Laboratory for H5N1 in Southeast Asia in March 2008 by the World Health Organisation (WHO). Dr. Ray was part of the core group of scientists at the Microbial Containment Complex, NIV, responsible for work carried out in the BSL 3+ laboratories. She worked as Scientific Consultant to the Chairman, Apollo Hospitals Educational and Research Foundation, Delhi during 2008-2010 with special emphasis on developing capacity for carrying out stem cell research. 
She has been active in the areas of social welfare and justice particularly in rights based issues of gender justice and equality, rural employment, food security, education, health, rights of the elderly and judicial accountability for the last ten years which took her out of active scientific research into a more direct involvement with programmes and people on the ground. 
Dr. Ray joined OHSL in 2018 and is overseeing biomedical research at OHSL through collaborative scientific programmes and consortia. Her research interests lie in the areas of Ayurveda and cancer, immunotherapy, engineered antibodies and phage display libraries. She believes in creating a platform where young scientists and students can bring their ideas and where a support system of mentorship, collaboration and infrastructure can be built around them to further their research goals.