Photo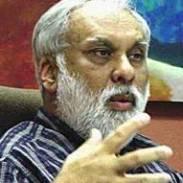 Anil Srivastava as head of Open Health Systems Laboratory (OHSL) located on the JHU Montgomery County Campus as US National Cancer Institute (NCI) in Rockville, MD, leads the ICKA: International Cancer Knowledge Alliance and ICTBioMed: International Consortium for Technology in Biomedicine beside serving as Special Volunteer, Radiation Research Program (RRP) and Member, Quantitive Imaging Network (QIN) International Liaison Committee at NCI. In the past he has worked as international program coordinator with NCI's Center for Biomedical Informatics and Information Technology (NCI CBIIT) where he led the IUCRG: Indo-US Cancer Research Grid initiative which led to the creation of the National Cancer Grid in India. Later he served as senior advisor for life sciences with Internet2 (University Corporation for Advanced Internet Development) and Advisor to India's National Knowledge Commission which established the direct fiber connection between the research and education network of India (National Knowledge Network) and United States (Internet2)..
He currently serves as Advisor, Biomedical Informatics for the Indian National Cancer Institute of the All India Institute for Medical Sciences (AIIMS), New Delhi, and Visiting Faculty and Consultant on Information Technology for Tata Memorial Hospital, Mumbai, India. As part of the collaboration between OHSL and Tata Memorial Hospital he advised on international procurement of the proton therapy facility and planning for the center of excellence and research for carbon ion therapy. He has been associated with the conception and planning of the Indian National Cancer Institute of AIIMS from the beginning.
Previously, he was a member of Apple's Advanced Technology Group. He continues his work as Advisor to the World Bank Group increasingly focusing on health systems and planning for non-communicable diseases treatment and research in LMICs (Lower and Middle Income Countries). In the past he worked as senior professional advisor with Booz-Allen & Hamilton in the Asia-Pacific region.
He has several publications and research papers to his credit and has been speaker at professional conferences (AACR, Accelerating Biology Symposium, BioIT, Indian Cancer Congress, Internet2, etc). Biomedical informatics and establishing international collaboration in cancer research and treatment are his special field of interest and expertise.
Prior to moving to the United States, he was the founding chief executive (1989-91) of NASSCOM: National Association of Software and Service Companies and founding director (1972-86) and head off Knowledge Engineering with Centre for Development of Instructional Technology.
Email
anil.srivastava@ohsl.us