Saturday, May 29th, 2021 - 7:00am (PDT) / 7:30pm (IST)
---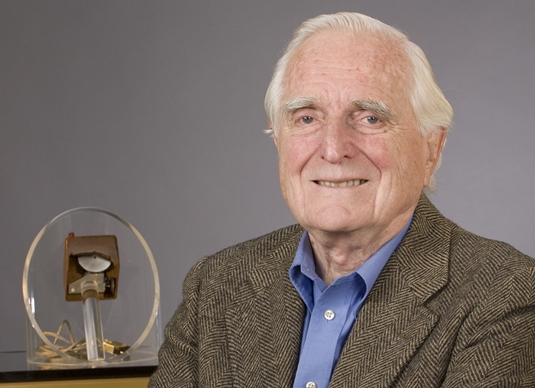 Dr. Jim Spohrer will deliver the 6th OHSL Colloquium lecture, "In Doug's Own Words: Remembering Doug Engelbart". Dr. Nandini Kannan will chair the event.  In 2003, after an IBM Almaden Institute workshop that highlighted Engelbart's pioneering work on coevolution of human and tool systems in pursuit of collective IQ, Doug asked Jim to be a member of the Board of Directors for his non-profit, originally called the Bootstrap Alliance and now known as the Doug Engelbart Institute. In addition, Jim will be talking with Christina Engelbart, Doug's daughter, and co-founder and Executive Director of Doug Engelbart Institute. Jim's intention is to capture three of Doug's core concepts that have influenced Jim's life and work, as well as countless others. These are:
Advantages of conceptualizing computers as augmentation of human abilities versus automation of human abilities (AI)
Co-evolution of human system and tool system
Improving improvement to accelerate the co-evolution
Dr. Jim Spohrer is based at IBM Research - Almaden and directs the Center for Open-Source Data and AI Technologies (CODAIT). Jim previously lead IBM Global University Programs, IBM Almaden Service Research, and was CTO IBM Venture Capital Relations group. He joined IBM in September of 1998 prior to that he was with Apple's Advanced Technology Group where he led the research on Educational Object Economy which started the open content/open courseware movement.
Dr. Nandini Kannan is the new Executive Director of the Indo-U.S. Science & Technology Forum (IUSSTF). Dr. Kannan spent over 20 years in academia, first as a faculty member and then as Chair, Department of Management Science and Statistics at the University of Texas at San Antonio (UTSA). Since 2014, Dr. Kannan has served as a Program Director at the US National Science Foundation (NSF).
Please join us on Saturday, May 29th, 2021 - 7:00am (PDT) / 7:30pm (IST) for an hour of observations "In Doug's Own Words: Remembering Doug Engelbart".
---
Speakers
---
Doug Engelbart's Legacy
Doug Engelbart's legacy is well represented on the web, not only through the Doug Engelbart Institute and The Mother of all Demos—the landmark computer demonstration, given at the Association for Computing Machinery / Institute of Electrical and Electronics Engineers (ACM/IEEE)—Computer Society's Fall Joint Computer Conference in San Francisco, which was presented by Douglas Engelbart on December 9, 1968" .
A fascinating in-depth look at Doug's life and work is the documentary film "The Augmentation of Douglas Engelbart". 
In addition, more of Doug's life and work is well represented across the web, and Wikipedia page on Doug Engelbart and The Mother of All Demos leads to much of it: 
Other videos:
From the Doug Engelbart Institute there's "A New Paradigm for Humanity's Collective IQ" which is a short summation of some of Doug's views. (https://www.youtube.com/watch?v=vdFejSdS9fs)
 "Inventing the Computer Mouse" at https://www.youtube.com/watch?v=xQx-tuW9A4Q
 "Doug Engelbart - Turing Award Lecture 1998" At https://www.youtube.com/watch?v=oBjyYTIerGs
"The Augmented Knowledge Workshop". At https://www.youtube.com/watch?v=sG3PWet8fDk&t=745s
 And "The Mother of All Demos" in its totality can be seen at: https://www.youtube.com/watch?v=yJDv-zdhzMY