Photo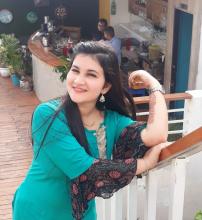 Sonam Khan is working with proposal preparation and management team of OHSL.    She has completed her masters in Biotechnology and worked on Mitochondrial DNA based identification of Labeo species during her internship from Wildlife Institute of India. Where, she studied that mitochondrial DNA can be useful for genetic identification and taxonomy which is further helpful for species conservation and management plans. Her work exposed her to learn skills.
Team member of proposal preparation and management in OHSL. 
Currently working for proposal preparation of ADTP(Ayurveda Developmental Therapeutics Programme) and also involved in IBRC(International Bacteriophage Research Consortium)
Her goal which leads her to help mankind motivates her for work.
Currently she is working as Trainee Scientific officer at Taqgene Training and Research Institute. She feels happy to work in lab and also her virtual working place provided by OHSL.