Photo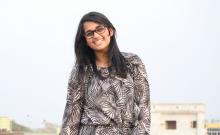 Shefalee Satpathy is a 3rd-year student at NMIMS University, Mumbai, and currently pursuing a dual degree - MBA and B.Tech in Electronics and Telecommunication. She is a keen believer in constant learning and process development. 
She has previously interned with ESTPL, Odisha wherein her role was of a content writer and technical-research associate, she was solely responsible for the content curation and the designing of the network solution for the Odisha State New Secretariat building. 
She has also been a part of Codequest, in association with Microsoft and has worked as an Artificial Intelligence intern. Ad well as freelanced with various organizations and startups as a content writer and social media manager. 
Being the Avenue Chair for Open School in Rotaract Club of Bombay Airport, she has now successfully organized various online sessions for the underprivileged in times of COVID-19. 
Her area of interests includes content writing, research and development in Electronics, Mathematics, Machine Learning and Artificial Intelligence. 
She is someone who thinks of the future and aims to make society a better place for everyone.
Currently at OHSL,  she is  working as the content curator for the main OHSL website and IBRC, ICECBS, ADTP and AKS. She will also be writing the content for social media.
Like mentioned earlier, she is a believer and aims to make a better society for everyone. OHSL is playing a crucial part in doing the same, therefore she is honoured to be a part of such an organization. She would want her skills to be helpful for someone out there and OHSL has provided her with a platform to do the same.
The motivation for work comes from seeing her mom and dad struggle every day. They work endlessly to fulfil her desires ergo she aims to be capable enough to support her parents.
Email
shefalee.satpathy@ohsl.us